Эта же модель:
Похожие модели:
Construction
Traditional sidewall-sandwich wood core skis
Handmade with love in Golden, CO from U.S.A. sourced materials
High precision CNC manufacturing process ensures consistent product and high build quality
Ingredients
Wood Core Ash/Bamboo/Poplar
Steel Edge 2.5 mm C60 spring steel
Base Material 1.8 mm DuraJet 4001 graphite-infused UHMW
Sidewall Material 8 mm thick UHMW-PE
Fabric Composites Triaxial Fiberglass and Carbon Fiber
Topsheet Sublimated PA11 nylon
Epoxy Low VOC, high performance ski-specific epoxy
VDS Rubber Foil Rubber foil improves stability, promotes bonding, and prevents premature de-lamination.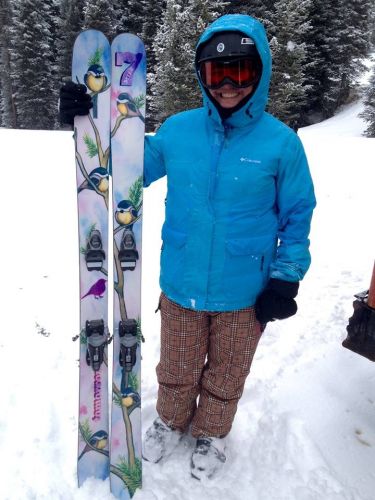 Based on the amazing Tomorrow All-Mountain platform, the Chickadees are a limited release women's ski featuring the artwork of Elizabeth Kurtak, a local skier in Fraser, CO and close friend of 7 Mile Skis. They are currently offered on a per-order basis and each will be carefully hand-made to fill each individual order. Please allow up to 4 weeks for delivery.
The Chickadees are a veritable one-ski quiver able to charge through any conditions with lightning fast responsiveness and confidence inspiring stability. Chickadees offer the best of both worlds between our park and powder ski, a versatile go to freestyle/freeride ski. Taking some of the rocker from a powder ski and some of the symmetry of the park ski with a nice platform for stomping drops or spinning kickers the Chickadees keep tight turns while maintaining low drag/catch and lots of float in the soft.
$700.00