Эта же модель:
Похожие модели: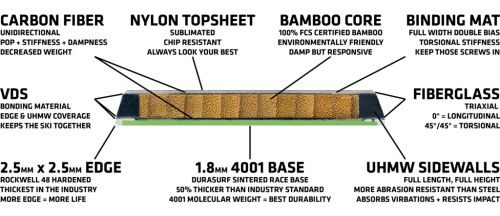 In what will be his first pro-model of many, Karl Fostvedt looked to design his signature jib skis in what would become the redesign of one of our original models and best-selling skis, the Jeronimo. In its place, the Kartel Series was born by splitting the DNA of its predecessor into two skis focused on park domination, crushing natural features all over the mountain, and dropping the hammer on the biggest backcountry booters.
Our Elliptical Sidecut and Elliptical Rocker Profile create a playful ride that gives back as much as you put in, while the progressive mount maintains the float in soft snow and stability at speed needed to kill it all over the mountain.
For those looking for a more stable yet playful all-mountain ride, the Kartel 106 offers a wider platform designed as the ultimate do-everything jib ski. Whether it is hitting the biggest backcountry booters, charging down a face on your next powder day, or ripping groomers on perfect corduroy, the Kartel 106 is designed to thrive in whatever condition you can throw at it.

$679.00