Эта же модель:
Похожие модели: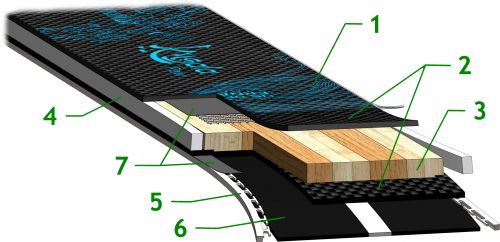 Isosport nylon topsheet.
Composite layer – these layer consists of Vectorply fiberglass and Hexcel carbon fiber in the hybrid model and various combinations of Hexcel carbon fiber in the pure carbon fiber models.
Aspen/Poplar wood core – these woods are lightweight and high performance woods that help our skis attain the attributes skiers love.
UHMW sidewalls.
2 mm edges.
Isosport diecut base
Elastomeric polymer rubber for bonding and damping
Tested winter, spring and through the summer of 2014, the Bya has been refined and updated for release Fall 2014. At 130/96/115, this ski has a tip that floats and an edge that bites to rail hard piste and ice unlike any other ski in the original Bro series of piste/off piste skis we offer. If you ski mostly piste to ice, the hybrid version offers the smooth damp of a fiberglass/metal ski. For off piste, touring and pure snappiness on the rebound, the pure quadaxial carbon version delivers the speed and punch of a livewire tree ski that will still rail trenches anywhere on the mountain.
$749.00-$849.00