Эта же модель:
Похожие модели: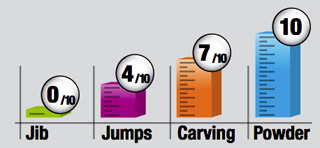 Wrocker
The board has camber between the feet, and a symmetrical rocker on tip & tail. The board is more stable at high speeds and enables betters floatability in powder snow.
Omega core
This core is also made from two types of poplar. The denser parts (80% of the core) are placed around the inserts (for skis, under the foot) and above the edges, for even more resistance. This solid and snappy core enables stable and dynamic turns.
4 Fiberglass Layers
The skis are pressed with four layers of 2D (0/90°) fibreglass. Two of these layers are placed above the woodcore, and two beneath it. This process makes the skis more durable and increases their edge grip.
Sintered 4000 Base
The higher molecular density makes these bases the reference in terms of durability and gliding performance, especially on very cold snow. Be sure to wax your base often to get the most out of it. All our bases are factory-tuned with wax.
Stone Ground
Stone ground bases glide much better on wet snow thanks to the structure which enables the water drops to escape quicker under the board.
minicap sidewalls
Our minicap sidewalls have a double angle (10° and 60°), which considerably reduces impact damage.
Twin Tail
This tail curves up 45mm, enabling easy and comfortable switch skiing.